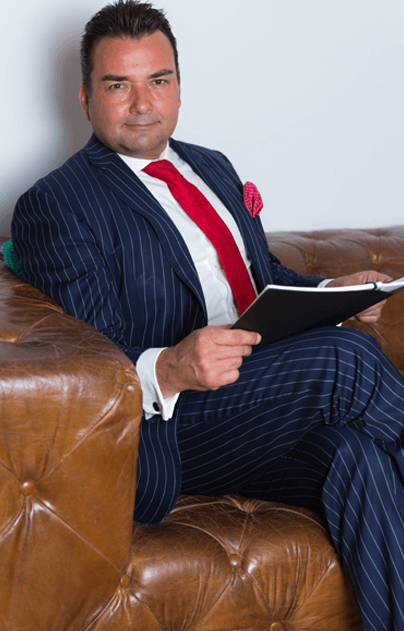 About Michael Kuzilny
Australia's most exciting Motivational Speaker.
Michael Kuzilny - Exclusive access to the Southern Hemispheres most influential business and mindfulness coach.
Michael Kuzilny is the director of MK LAW. Level 8, 350 Collins Street Melbourne, Victoria, AUSTRALIA. www.mklawfirm.com.au In Australia, many know MK as the lawyer of the people, having hosted his own TV shows over the years and helping people through the tough times.
Michael Kuzilny is the author of 10 books, and enjoys inspiring audiences around the globe. As an international success coach and speaker he loves to motivate small and large companies, including FORTUNE 500 companies, to achieve increased happiness, productivity and work /life balance. MK strongly believes that a superior attitude makes all the difference in large companies, in families and people's personal lives. Super fantastic attitude - super fantastic outcomes, average attitude - average outcomes, poor attitude - poor outcomes. Michael Kuzilny has been a long standing member and former Governor of Toastmasters International and has been involved with Rotary Clubs, Australia.
Michael, who took up meditation 20 years ago, says that spending 20 minutes in silence every day has changed his life in every way possible. Michael says "Western society is crazy; and it's getting crazier". Depression rates and mental health issues are becoming an epidemic. In his favourite book "MEDITATE OR GO CRAZY", Michael speaks about the many psychological and health benefits of regular meditation, and explains in his talks on how simple it is to gain the benefits from this ancient practice.
Michael Kuzilny has been awarded many business awards including:
ACQ5 Global Awards 2018
AUSTRALIA WINNER - LAW FIRM OF THE YEAR 2018 (Criminal & Traffic Law)
MKLAW ACQ GLOBAL AWARD 2018 - AUSTRALIA WINNER
DEFENCE LAWYER OF THE YEAR 2018. Michael Kuzilny
MK LAW, BEST 3 CRIMINAL LAWYERS MELBOURNE 2018 & 2019
MKLAW, BEST 3 TRAFFIC LAWYERS MELBOURNE 2018 & 2019
MKLAW, WORD OF MOUTH; BEST LAWYER IN AUSTRALIA, TOASTMASTER COMMUNITY SERVICE AWARDS
MKLAW. ANTENNA AWARDS NATIONAL - BEST MALE TV PRESENTER.
He has also been nominated again for the 2019
GLOBAL AWARDS - DEFENCE LAWYER OF THE YEAR- AUSTRALIA.